A note of thanks.
The Patachou Foundation began its third year of service this fall. We have served over 12,000 meals since our inception in 2013! 
Each week, we feed over 400 meals prepared by staff volunteers and reaching kids from 5 different IPS schools on the Near East Side.
Almost daily, kids tell us that without these meals they might not have dinner at home. We are so grateful to take part in transforming the unacceptable reality of hunger in our own backyard.
With the help of incredibly warm and dedicated volunteers sharing the joys of real food, we are not just making an immediate impact, we are also putting smiles on the faces of each student we serve.
Thank you for your commitment to making such an impact through The Patachou Foundation.
WE ARE SERVING AT A NEW LOCATION!
This Fall, The Patachou Foundation began a new partnership with the Ralph Waldo Emerson Elementary School on the Near East Side.
There, we are serving the same wholesome meals that we have always served to about 80 students each day.
Additionally, we are teaching a group of students at that school about where food comes from, the joys of new flavors and manners at the table. This program is accompanied by a yoga and mindfulness program led by Mighty Lotus. 
If you would like to get involved in serving, contact us at volunteer@thepatachoufoundation.org.
The Patachou Foundation's Founder, Martha Hoover, recently received the Jefferson Award for her work with The Patachou Foundation and Public Greens. Watch the segment above.
Volunteer Spotlight
The volunteer spotlight this quarter goes to John Francis, who has volunteered since the beginning of The Patachou Foundation. John's attitude and dedication toward relieving hunger in our community is both admirable and noteworthy, especially because he recently began working for Meals on Wheels, after volunteering for over five years with that organization as well.
We are so happy to be able to count on many volunteers just like John to make the mission of The Patachou Foundation a reality.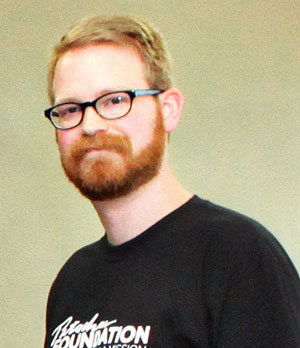 Why did you get involved with the Patachou Foundation?
-I felt very fortunate to have developed healthy food habits as a young person. My mom made home cooked meals and my grandmother was a great cook.  My aunt, a home economics teacher, lived next door when I was growing up. She taught me how to read nutrition labels. I wanted to contribute in a similar way to the students we serve at The Patachou Foundation.
What is you favorite experience from volunteering with us?
-I love how grateful the students are, and it is rewarding to see them being open to trying new foods.
If you could pass on one specific thing to the students through volunteering, what would it be?
-I want the students to know that you can eat really well, and it does not have to be expensive. I want them to see the value in enjoying good food together with other people.
What would you say to someone who wanted to volunteer?
-You do not have to be any special person to volunteer. It is very rewarding and it only takes a little time.
Pass this message on to your friends! Find out how you can get involved online.
---
Mark your calendar!
Our annual Speaker's Forum fundraiser will be held February 18, 2016. Stay tuned for more information. You will not want to miss this event.
If you are interested in sponsoring this event, or helping with logistics, please contact us today.
---
Are you following us on social media?
Stay up to date with news, fundraisers and special events for The Patachou Foundation on Instagram, Facebook and Twitter.
---
#GIVINGTUESDAY
This year, The Patachou Foundation will be participating in Giving Tuesday on December 1 to help us grow our capacity to serve wholesome meals.
Consider your ability to give a few meals a month by becoming a monthly donor. You will receive more details about #GivingTuesday as it approaches. 
---
By the numbers:
Meals served per week: 400
Active volunteers: 120
Volunteer hours this fall: 210
Use the htmlg.com free web content editor to compose web articles like this one.